Kirsty Hendry's Reading List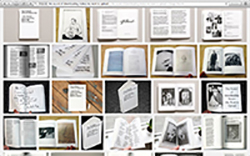 ♦  Flatlands: A Romance of Many Dimensions, EA. Abbot, Princeton University Press, 1991.
♦  Too Much World: The Films of Hito Steyerl, ed. Nick Aitkens, Sternberg Press, 2014.
♦  Ahali: An Anthology for Setting a Setting, C Altay, Bedford Press, 2013.
♦  The Institute of Social Hypocrisy -The Sound of Downloading Makes Me Want to Upload, ed. V. Boullet, The Institute of Social Hypocrisy, 2010.
♦  Cloud Time: The Inception of the Future, R. Coley and D. Lockwood, Zero Books, 2012.
♦ ♦ ♦
Biography
Kirsty Hendry is an artist and curator based in Edinburgh and is currently co-director of EMBASSY Gallery. Recent projects include a contribution to Undercurrents Issue 4 and A Romance of Zero Dimensions (The Pipe Factory Glasgow) and Generator Printhouse (Generator Projects, Dundee).