Frances Davis' Reading List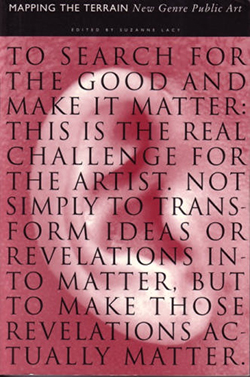 ♦  Mapping the terrain: new genre public art, Suzanne Lacy, Indiana University, 1995.
♦  Conversation Pieces, G.H. Kester, University of California Press,  2004.
♦  Relational Aesthetics, N. Bourriaud, Les Presses du Reel, 2002.
♦  Modest Proposals, Esche, Baglam Publishing, 2005.
♦  'Time capsule', Lucy Lippard, Art and Social Change, editors W. Bradley & E. Esche, Tate Publishing /Afterall, London, 2007.
♦ ♦ ♦
Biography
Frances Davis' practice is research-led, encompassing writing, moving image and performance, and event and exhibition production. She currently lives and works in Glasgow and Helmsdale, where she is Curatorial Assistant at Timespan.