Daisy Lafarge's Reading List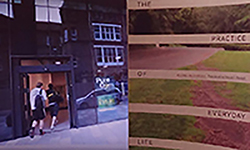 ♦  The Practice of Everyday Life, Michel de Certeau, University of California Press, 2011.
♦  Writings from the Zen Masters, Various authors, Penguin Great Ideas, 2009.
♦  The Cow, Ariana Reines, Fence Books, 2007.
♦  Naive. Super, Erlend Loe, Canongate Books Ltd, 2005.
♦  The Moomins and the Great Flood, Tove Jansson, 1945.
♦ ♦ ♦
Biography
Daisy Lafarge is from Hastings and studies in Edinburgh, where she writes regularly. Recently shortlisted for prizes in poetry and art criticism, her work has featured in publications in print and online.
Text: BE A BODY: A HOW-TO GUIDE TO ELAPSING